Kaleidoscope Futures is a producer on two sustainability films:
Closing the Loop
Closing the Loop is a 4K documentary about  creating a high-synergy integrated society by moving from a linear (take-make-waste) to a circular (borrow, create, benefit, return) economy. By shining the spotlight on businesses and technologies that are applying circular principles, with the goal of creating a circular economy, this documentary shows that a sustainable future is not only desirable, it is also possible. Presented by Wayne Visser. Directed by Graham Sheldon and Erin Ehlers. Due for release on 22 April 2018. For more information, or to host a free screening event, go to www.closingtheloopfilm.com.
Sinking Nation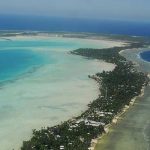 Sinking Nation is a 4K climate change documentary shot on the Pacific Island Nation of Kiribati. The project follows the story of several inhabitants — a fisherman, a farmer and the president of the country as they each deal with a changing climate in very different ways. Just two meters above sea level, the population of 106,000 people is in danger and options are limited.  Written by Graham Sheldon. Directed by Graham Sheldon and Andi Beqiri. Released 2015.
For more information, please Contact Us.